They say Paris is always a good idea, but Maui is an even greater one. No matter when you choose to visit, you always discover a variety of hidden gems. If your beach plans fell through because of the weather, don't panic! We have the perfect activity for you. The Maui Aquarium is a great place to learn more about our beautiful island and its inhabitants—both human and non-human! Read on to learn more about the Ocean Center and start planning a visit today.
Do you want to find more activities on Maui? Download our free Destination Guide. This planning tool features some of our favorite local restaurants, events, shops, outdoor adventures, and many more museums like this one.


Everything to Know about the Maui Aquarium
What Is the Maui Aquarium?
The Maui Aquarium, also known as Maui Ocean Center, is a wonderful spot for nature lovers. Since 1998, it's been a sanctuary for marine life. Did you know that it boasts one of the largest collections of live Pacific corals in the world. The aquarium is open all year long from 9 a.m. to 5 p.m. (last entries are at 4:30 p.m.). Tickets cost $34.95 for adults, $31.95 for seniors, and $24.95 for children ages 4 to 12. 

What Can You Do and See?
You can spend a whole afternoon at the aquarium without getting bored. Explore the many exhibits and presentations (they have more than 20 daily), as well as the outdoor tide pools. We highly recommend their Open Ocean Exhibit, which features a 750,000–gallon aquarium with a 240-degree view. 
The Maui Aquarium also offers a variety of tours. Go behind the scenes in the labs and experience the life of a marine biologist, or even go for a dive to meet some stingrays and sharks! 
How Long Does the Maui Aquarium Take?
It will take you about two hours to really see everything that the Maui Ocean Center has to offer. The Maui Ocean Center is open every day from 9am to 5pm (no admission after 4:30pm), but we recommend getting there in the morning to beat the traffic and set up your day for success!
Does the Maui Aquarium Have Sharks?
Yes! You can actually dive with sharks like hammerheads, sandbar, blacktip reef, and sometimes a tiger shark. This is a special experience you literally can't experience anywhere else!
Dining at the Aquarium
After seeing all the exhibits, head over to the Aquarium's restaurant to grab a bite! Seascape Restaurant is a local favorite. This award-winning spot offers a delicious menu filled with island-inspired classics, including coconut prawns, Kalua pulled pork, Maui–style burgers (with teriyaki glaze and pineapple), mango baby back ribs, and fish tacos. 
Seascape Restaurant is open daily from 11 a.m. to 3:30 p.m. for lunch, then Friday through Sunday for dinner between 5 and 8:30 p.m.

Rain or Shine, Maui Is Always Magical!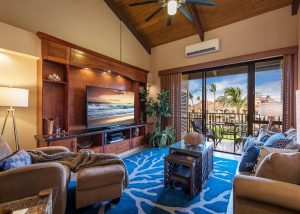 Give your Hawaiian vacation the perfect home with PMI Maui! Our Kamaole Sands 7-404 is a spacious 2-bedroom, 2-bath condo that can sleep up to six people. Plus, it offers beautiful garden views! Picture yourself eating your breakfast on the balcony, and sipping a hot cup of coffee while gazing out at the distant ocean. 
You'll love the beautiful, earthy, and wooden details as well as all the modern amenities available. Take a look at the fully equipped kitchen, for example. You can cook yourself a delicious dinner, sit around the granite countertop to enjoy it with your loved ones. With this condo, you also get access to a large pool, hot tub, and even a tennis court!