Are you dreaming of a fabulous adventure on the water during your stay on Maui? Look no further than this blog! We have the perfect activity for you. Maui Kayak Adventures offers excitement, gorgeous scenery, and a lot of fun for the entire family. Imagine yourself gliding on the turquoise water and admiring Maui's stunning shoreline. Make memories for a lifetime with the ones you love and come home already planning your second trip to our island!
Discover more amazing things to do on Maui in our exclusive, free Destination Guide! We created this tool to share some of our favorite activities. Learn about the top local restaurants, events, shops, museums, outdoor adventures, and more!
Plan the Best Day on the Water With Maui Kayak Adventure
What Is Maui Kayak Adventure?
One of the best companies for kayak tours on Maui is Maui Kayak Adventures. Discover the beauty of Makena in the south part of the island or Olowalu on the west side. There's nothing more relaxing than paddling away on an endless ocean, feeling the breeze rushing through your hair, and looking back at the coast to see one of the most jaw-dropping coastlines in the world. You can either go on a group tour for $89 per person or, if you prefer a more intimate experience, book a private tour for $159 per person. 
More Kayak Tours 
Another great source for kayak adventures on Maui is Maui Eco Tours! Follow your private guide through gorgeous natural landscapes, including coral reefs and hidden caves, and explore the wonders of beloved local spots, like DT Fleming Beach Park, Makena State Park, and even Ukumehame Beach Park. Tours cost between $74 and $199, depending on the experience you select. 
Other Outdoor Activities You'll Love
If a kayak tour isn't enough for the explorer that you are, get ready for more exciting adventures! There are plenty of other fun water activities you can enjoy during your visit. One of our favorites is swimming with turtles! Go underwater and discover the colorful world of the Pacific Ocean. Turtle Town is a dream come true for snorkelers and a prime spot to see these adorable creatures. You can even go on a Sea Turtle Tour!
Find Your Home on Maui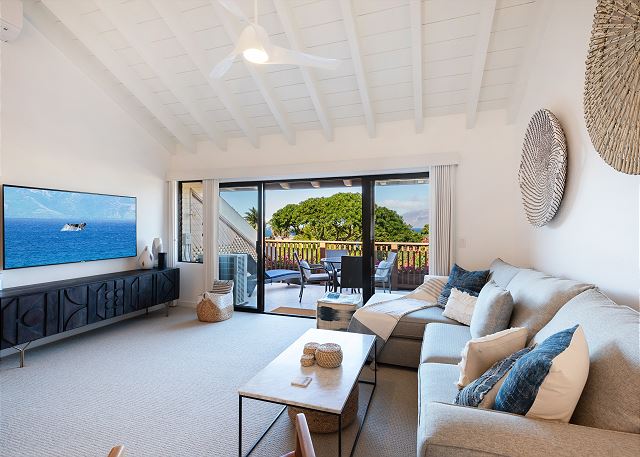 Now you know how fabulous Maui is for kayaking! We bet you've spent this entire blog picturing yourself here with your loved ones, so go ahead and start planning today! PMI Maui offers some of the most beautiful properties on our lovely Hawaiian island. From one-bedroom to three-bedroom condos, you'll have plenty of space to fit your family, no matter how big or small it is. All of our properties are fully equipped and come with gorgeous lanais offering stunning views of the ocean and lush gardens.