Have you ever dreamt of lying on a warm beach next to your significant other while gazing at a stunning tropical sunset? What if we told you we can grant your wish? Come experience a vacation like no other on our beautiful Hawaiian island, and turn your life into that picture-perfect setting of your dreams! In this blog, we'll share five of our favorite spots to watch the sunset on Maui and add some colors to your vacation. Are you ready? Read on, take notes, and book an unforgettable getaway with PMI Maui! 
Do you want to learn more about all the wonderful things you can do while visiting Maui? Download our free Destination Guide and unlock all the best local secrets! Get access to information about the top restaurants, events, shops, museums, outdoor adventures, and more! 
You'll Love These 5 Spots to Watch the Sunset on Maui!
Haleakala National Park
The first place that comes to mind when choosing the perfect spot to watch the sunset on Maui is the Haleakala National Park. Not only is it one of the most scenic places on the island, but it also offers one of the most stunning views in the world! Picture this: you've just hiked through a beautiful tropical forest, and you are now sitting on top of a volcano with the people you love most. The colors are vibrant purple and orange, endlessly spreading in the infinite horizon. If it's a cloudy day, you will feel like you're floating on top of the world! 
Kapalua Bay
If you're looking for that picture-perfect sunset shot, then head over to Kapalua Bay Beach. You can spend the day there enjoying the beach and dipping your toes in the ocean, and end the afternoon with a gorgeous sunset photoshoot session. When twilight comes, the rocky outcrops transform into a real-life water mirror! Suddenly, the surroundings melt into a pool of gold and purple, and you are left enchanted by this magical spectacle.  
Keawakapu
 Beach
Keawakapu Beach is another fabulous beach where sunsets are enchanting. This isolated beach stretches for over a half mile, offering countless spots where you can lay a blanket and enjoy your better half in privacy. Have a picnic on the pristine white sand and watch the orange sun melt into the dark waves of the ocean. The mountains on the horizon play with light in a mesmerizing way, and the black shadows mix with the clouds. Experience it all from the comfort of your beach towel! 
Lahaina Pali Trail
You have to earn your sunset on the Lahaina Pali Trail. To get to the viewpoint, you first have to hike 500 vertical feet from the Ukumehame trailhead, but it's worth every step! The panoramic view is breathtaking (probably the best on the island), and you can see whales from time to time. Don't forget to bring a flashlight with you for the way back! 
Po'olenalena
 Beach Park
Po'olenalena is another secret spot hidden between the South Maui resorts and the Big Beach area. Also known as Chang's Beach, it's a perfect evening spot to watch a gorgeous Maui sunset. Here is your chance to immortalize your Hawaiian vacation in front of an electric orange sky! 
Find the Perfect Vacation Spot with PMI Maui!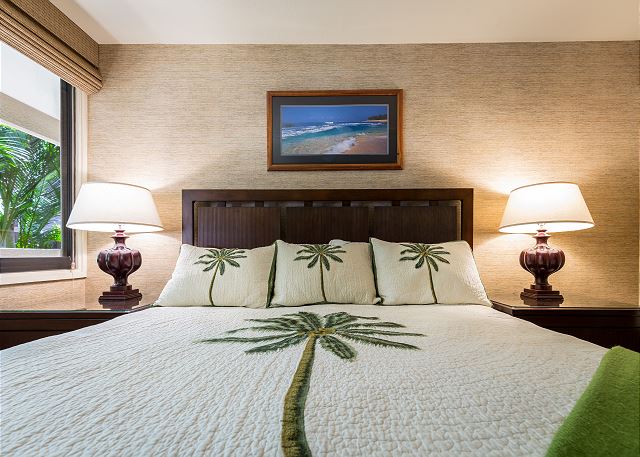 Are you excited about all the gorgeous sunsets you're going to watch on Maui? Good! Now, all you need to do is find the perfect place to come home to. Luckily for you, PMI Maui offers an array of fabulous condos for you and your loved ones! Browse our selection today and find the one that best suits your needs. From one-bedroom love nests to spacious properties for the entire family, you're sure to find what you are looking for. Did we mention all our units come with elegant décor, modern amenities, and beautiful garden and ocean views? They're also ideally located near the top attractions on Maui!