You've been dreaming about your Hawaiian vacation for weeks now – maybe even months. You want to discover pristine beaches, explore jungles, and admire stunning mountain tops. What if we told you that you can do all three things at the same time? Simply book a Maui helicopter tour! It's an epic activity you need to try at least once. Soar high in the sky and experience views like nowhere else. 
Discover more unique adventures to add to your bucket list in our free Maui Vacation Guide! You'll find our picks for gourmet restaurants, breathtaking beaches, and plenty of local events.
The Best Ways to Get in the Air on a Maui Helicopter Tour
How Much is a Helicopter Tour on Maui
The price of a Maui helicopter trip can range from $200 to $500 depending on who you fly with, where you want to see, and how long you plan on staying in the air. A complete island tour starts at $300 (1 hour in the air), whereas seeing the West Maui waterfalls starts at around $230.
What Helicopter Tour to Take on Maui?
Air Maui
Air Maui is the top-rated helicopter tour company on the island. You'll have a spectacular ride through the sky above jaw-dropping mountains and white-sand beaches. Feel the power of the wind rushing through your hair and explore Maui in an unforgettable way. Without doors to separate you from the beauty below, you can truly immerse yourself in the experience and take impeccable pictures of the waterfalls and rainbows!
Blue Hawaiian Helicopter Tours
A 50-minute tour in one of Blue Hawaiian's helicopters gives you a fresh perspective on the magic of Maui. Forget about the nervousness if it's your first time; the pilots will reassure you, and the scenic views will make you forget all about it! You will even be offered some Champagne after you land.
Local Tip: If you're visiting between November and March, watch for whales down below!
Maverick Helicopters
Maverick Helicopters is a fantastic Maui tour company that provides excellent service. Their ECO-star helicopters use quiet technology for a more enjoyable and organic experience. Plus, the company guarantees the highest level of safety, so you can live out your adventure to the fullest. You'll also gain a lot of knowledge from the pilots. They always have fun and insightful anecdotes about the island!
Sunshine Helicopters
Explore the hidden treasures and rocky terrain of Maui with Sunshine Helicopters. The company established itself more than 25 years ago and has a reputation for excellence and quality. Discover the two million-year-old features of Maui: the West Maui mountains, Haleakala volcano, fields of sugar fields and pineapples, and surfing spots on the North Shore.
Pacific Helicopter Tours
Pacific Helicopter Tours offers doors-off tours around the island that are perfect for groups of friends and family. Take your vacation to another level with a top-notch fly over Maui. The staff is friendly and very accommodating, so you won't be disappointed!
Plan Your Dream Vacation with PMI Maui Rentals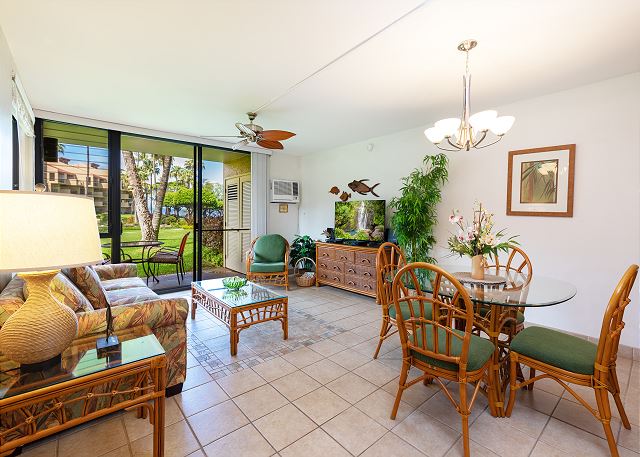 After an incredible day witnessing Maui's scenery, come home to your luxurious rental with PMI Maui. Our comfortable units have everything you need for a memorable vacation.
Enjoy the modern amenities and stunning views of our Kamaole Sands 1-102 condo. Relax with a glass of wine on your private balcony, enjoy two private hot tubs, or hang around the large pool area with your loved ones. Beach towels and chairs are included in the rental, as are boogie boards.
Book your stay today so that you can cross "epic Maui vacation" off your bucket list!