If you want to make your romantic getaway even more special, we have the perfect date idea for you! Maui dinner cruises are a wonderful way to marvel at the island's natural beauty while enjoying a unique dining experience. You can surprise your better half or plan it together, but don't waste time sorting all the companies out! We've already done it for you. Read on to discover the three most romantic Maui dinner cruises and start dreaming about your next vacation today!
Experience a romantic Maui dinner cruise with your significant other and discover even more amazing activities in our free Vacation Guide. This handy tool has helped so many couples make unforgettable memories. Click below to get your guide now!
These Maui Dinner Cruises Are Perfect for Date Night
Pride of Maui Sunset Dinner
A Pride of Maui Sunset Dinner is one of the best ways to spend your evening! Not only is it a delight for your palate, but also for your eyes. Treat yourself to a cold margarita and gaze at Maui's rocky coastline in the arms of the one you love. You can have a "Jack and Rose" moment, then come back inside to enjoy a delicious dinner of fresh fruit and grilled meat. Dine to the tempo of the live music and hit the dancefloor! From flamenco to jazz to blues, the band's repertoire is endless.
Captain's Sunset Dinner Sail
Trilogy's luxurious Captain's Sunset Dinner Sail offers breathtaking views as well as a unique culinary experience. Get some alone time with your better half on the impressive catamaran and soak in the marvelous landscape on the horizon! Dinner includes three courses with an entree of your choice. Desserts and drinks can be enjoyed at sunset, so make sure you bring your camera! It's the perfect occasion to take that picture that will make all your friends jealous.
Kai Kanani Sunset Sail
Sail into Golden Hour with Kai Kanani Sunset Sail! The ocean looks amazing from the deck of Kai Kanani's catamaran. Drink a delicious cocktail as you marvel at the magical yellow light reflecting on the water, and breathe in the salty air as you sail away from the shore! Get a taste of paradise with MauiWine's Lokelani sparkling wine and make lifetime memories with your significant other.
End the Evening With PMI Maui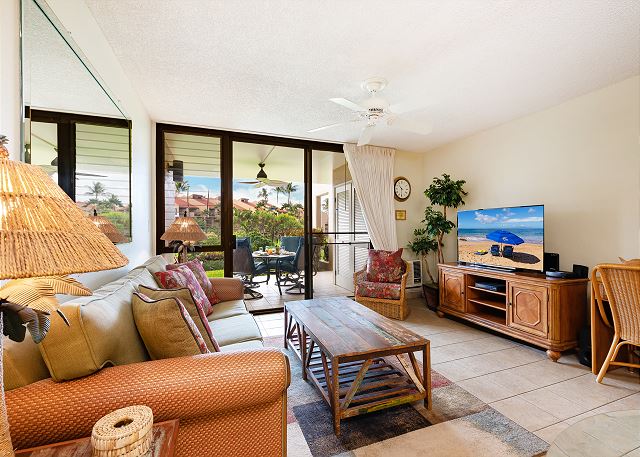 After a delightful date night, come back to the Hawaiian vacation home of your dreams. PMI Maui rentals feature modern amenities, ocean views, and the peace and privacy you need for a romantic getaway. 
Kamaole Sands 3-106 is a stunning one-bedroom condo perfect for couples. Let the earthy tones of this comfortable abode set the scene for a relaxing vacation. You can cook a delicious meal for your better half in the fully equipped kitchen, sip a glass of wine together on your balcony overlooking the garden, and dream the night away in your comfy king-size bed!
Book your stay with PMI Maui today! We look forward to hosting you soon.