Explore surfing the way indigenous Hawaiians have for centuries when you visit Maui, Hawaii. Maui is the land of adventure, and it's only natural for you to want to get out and explore it. Surfing on Maui is very popular and can provide you with the exciting experience you seek. Whether you're a beginner looking to learn how to surf or a pro seeking a new challenge, read why surfing is better on Maui.
For more scenic activities, download our complimentary Destination Guide. It has all of our favorite recommendations for local restaurants, shops, museums, events, and more!
Everything You Need to Know About Surfing on Maui
Best Times to Surf on Maui
Maui's location and surf culture is perfect for beginners! The main Maui surfing season is from November to March because the swells (surfable waves) are most consistent. During this time, swells can reach heights of nine feet consistently as heavy north swells are pushed toward Maui.
If you are uncomfortable with the higher swells, May through October feature swells ranging five to seven feet in height, or you can visit the southside of the island for consistently easier swells to manage.
Best Places to Surf on Maui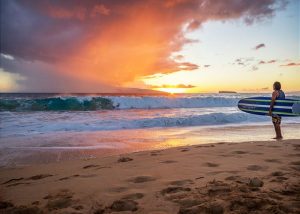 Choosing the right surfing location can come down to a variety of factors. You can choose to book a beach closer to your vacation rental, but not all beach surfs are meant for all skill levels.
Honolua Bay
Ranked number 1 in the world for its right-hand waves, Honolua Bay is the Maui destination for experienced surfers only. The big waves offered during winter make for incredibly long, rewarding rides, but are also extremely dangerous. It is also a great place to watch experienced pros tackle nature head-on!
Pe'ahi (Jaws)
Hard to reach, the "big wave" surf spot Pe'ah is both unpredictable and exhilarating. The nickname Jaws came from Maui surfers John Roberson, John Lemus, and John Potterick in 1975 after noticing a sudden change in conditions. Modern big wave surfing involves a surfer being towed out to the wave and riding it out. Meant for moderate to advanced surfers, Pe'ahi also can be a bit hard to find since it's really off the beaten path.
Lahaina
A great place for beginners, Lahaina is found on the southwest end of Maui. The south end of the island is known for tamer waves and the surfing community is very patient for beginners to the sport. All ages are welcome and Lahaina is a beautiful city. Known for its high-priced real estate, the former one-time capital of the Kingdom of Hawaii is a great place to stop on your tour of the island!
Best Surfing Companies on Maui
If you are looking for lessons or need to rent the perfect board, these are some of our favorite companies to work with!
LahAina Surf Shack
One of the best surfing schools on Maui, LahAina Surf Shack is the perfect place to learn about our favorite watersport. LahAina works with all ages and does surf lessons, summer surf camps, and stand-up paddle lessons.
Maui Surfboards
A small hole in the wall, Maui Surfboards is underrated to rent or buy surfboards, skimboards, bodyboards, or snorkels from. Rentals can last up to 10 days and then even do surf and SUP lessons. Owner Wayno custom builds his own surfboards since 1966 and make sure to ask about vintage ukeleles for sale if you have an ear for music.
Hi-Tech Surf Sports
With four locations, Hi-Tech Surf Sports is the definition of convenience. Selling everything from apparel to surfboards, the shop is great, and the rentals are even better! If you need a skateboard while you're here, they even offer decks too!
View this post on Instagram
FIND YOUR CORNER OF PARADISE WITH PMI MAUI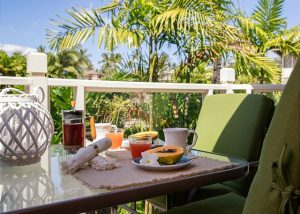 Are you looking for the perfect home for your vacation? PMI Maui is the way to go! We offer a wide variety of rentals, including the stunning Grand Champions Villas #184. This spacious two-bedrooms and two-baths condo sleeps up to eight people and has a beautiful outdoor lanai. It features the perfect location for the Maui surfer, and we hope you love it as much as we do!
When you wake up each morning, gather around the granite-top counter for some freshly squeezed orange juice. Or, take a cup of coffee outside and admire the views of the resort. This is the sweetest way to start the day and allows you to plan all your grand adventures on our island!