You've likely already heard of Maui's gorgeous beaches, but did you know our lovely Hawaiian island also boasts spectacular hiking trails? If you love nature and enjoy exploring the outdoors, then you cannot miss the four South Maui hikes we have in store for you. Witness the magic of the early morning light shimmering on the ocean, trek through the jungle, see waterfalls, and get lost in the beauty of Maui's mesmerizing sunsets. So, don't wait another second! Read on and start planning your Maui vacation today.  
Learn more about the best things to do on Maui in our exclusive, free Destination Guide. We've created this planning tool to share some of our favorite recommendations, including local restaurants, events, shops, museums, outdoor activities, and more. 
Here Are the Top 4 South Maui Hikes
South Maui is a prime spot for hiking. If you enjoy the outdoors or simply wish to take a break from the beach, then you're going to love these four hikes: 
Kuloa Point
Our favorite hike to recommend on South Maui is Kuloa Point. After all, it's considered one of the best hikes on the island by locals and tourists alike! Get ready to venture along the curved roads, bathe in Hawaiian pools, and soak up some of the most majestic ocean views of your life. It's a perfect outdoor trail for hikers of all experience levels. Indeed, this family-friendly, 0.6-mile trail can be crowded, so make sure you arrive early! 
Tip: This area is known for sudden flash floods. Before swimming, make sure you check with the rangers and obey regulations.  
Sliding Sands Out-and-Back
Sliding Sands Out-and-Back is longer than Kuloa Point (4.6 miles) and is a little trickier, which can be perfect for more skilled hikers looking to challenge themselves. Make your way along the trail and marvel at the vibrant colors of the hills, smell the wildflowers blooming all around you, and take a well-deserved break once you get to the top! You'll need all the rest you can get for the way back. 
Pipiwai
 Trail
If it's a complete immersion in nature you're looking for, then the pipiwai Trail offers the perfect jungle experience. Lace up your boots and get ready for an unforgettable hike. Soak up the scenery of the lush tropical forest and even admire a gorgeous waterfall on the way! The trail is 3.4-mile-long and offers plenty of river and creek views, as well as a giant Banyan tree, apple grove, and a bamboo forest! 
Tip: Some routes to the waterfall might be slippery, so make sure you are careful! Be aware of flooding and make sure you don't put your head in the water. Swimming at the waterfall is not recommended in that area.  
La Perouse Bay to Cap 
Hanamanioa
La Perouse Bay to Cap Hanamanioa is a lovely 2.5-mile hiking trail that offers fabulous views of the island of Kahoolawe. It's the relaxing, coastal walk you need to unwind, taking you along black volcano rocks and the deep blue ocean. On your way, you'll also see some ancient Hawaiian structures and spot traces of the last lava flow that happened on Maui in 1790. It's a real hike down in history! 
Tip: Bring a lot of water to stay hydrated! 
It's Time to Find You a Place to Stay!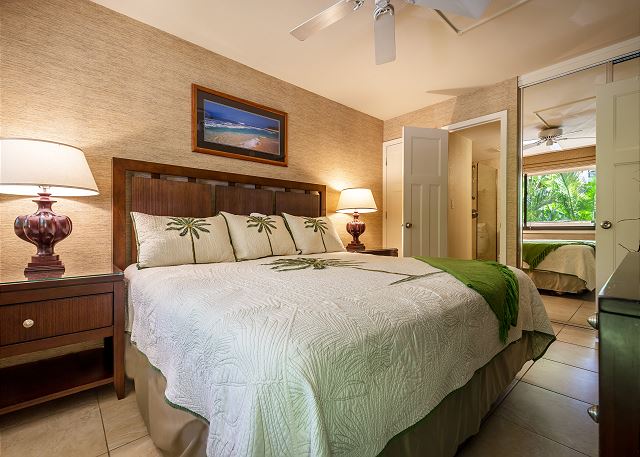 Now that you know all about hiking on South Maui, it's time to think about where to stay. After walking all day, you'll want to come home to a cozy condo, draw yourself a hot bath and relax your muscles. Luckily for you, our PMI Maui properties are ideal for that. You'll love the modern amenities, elegant décor, and spacious decks where you can sip on a glass of wine at sunset, gazing at the ocean in the distance.