Are you planning a trip to Maui, but want to beat the heat this summer? We can help you find ways to avoid getting overheated on vacation here in sunny Hawaii. In this blog, we'll look at the best beaches and wonderful waterfalls to help you stay cool during a Maui summer. Since Maui has a year-round climate, these tips are useful whenever you travel. 
To learn more about the best attractions in Maui, access our free Destination Guide! This unique tool was designed to highlight our favorite local restaurants, shops, events, museums, outdoor activities, and more. It is a must-have for any well-prepared traveler!
What Are the Best Ways to Stay Cool During a Maui Summer?
Swim in a Waterfall
If you love nature, there is nothing more majestic than a waterfall. Equal parts beauty and power, Maui's waterfalls are as amazing swim in as they are to look at! The Seven Sacred Pools ('Ohe'o Gulch) is comprised of a beautiful two-mile stretch of rockslides and freshwater pools. While they are fun to explore, be careful and obey signs and safety rules.  
When traveling the Road to Hana, stop at Waikamoi Stream, the second-largest waterfall on the island. It's one of the most underrated spots to visit and is relatively accessible. The pool provides a refreshing place to swim and is the perfect backdrop for a social media post!  
Shave Ice and Chill
Hawaiian Shave Ice is a treasure like no other and is easily one of the best ways to cool off when out in the warm sun. First developed by Japanese field workers, shaved ice has become an international treasure for its flavor and texture. Ululani's Shaved Ice has four locations on Maui and features a variety of flavors that will cool you down in no time.  
Hit the Beach 
Visiting Maui would be remiss without a magical day on one of the many white-sand beaches on the island. One of the best, Ka'aanapali Beach, is world-renowned for its open-air shopping complex (Whalers Village), two golf courses, and daily cliff diving at Puu Kekaa (Black Rock). You'll love cooling off with a splash in the crystal-clear water!   
Another family-friendly location is Napili Beach, which offers a great mix of attractions, restaurants, and wildlife. The street parking goes fast, so make sure to arrive bright and early.   
Your Next Adventure Awaits with PMI Maui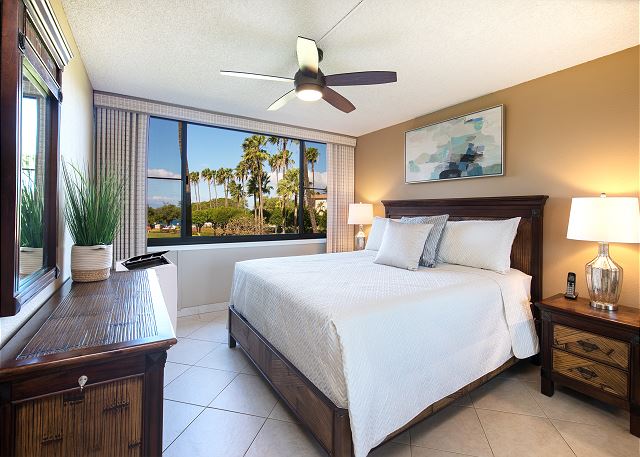 We know you're looking forward to experiencing the island we call home. To keep paradise close to you, come stay in one of our gorgeous properties! Our Kamaole Sands 10-215 unit is a great place to start. This two-bedroom, two-bathroom condo features modern amenities and unbelievable ocean views. It's the perfect place to unwind after a long day in the sun. And, with a fully equipped kitchen and plenty of beach gear, you will always be comfortable on or off the beach on Maui.  
Check our availability and book your stay today! We look forward to hosting you for your next Hawaiian vacation.