Is this your first time planning a vacation in paradise? Maui is a beautiful island, but there are a few things you need to know before you visit. If you are a first-time visitor to Maui, we are more than happy to help you plan, pack, and prepare for your vacation!
To learn more about the best attractions in Maui, access our free Destination Guide! We designed this unique tool to highlight our favorite local restaurants, shops, events, museums, outdoor activities, and more. It is a must-have for any well-prepared traveler!
What are the Best Tips for First Time Visitors to Maui?
Rent a Car
Maui is a place best experienced when you can drive yourself around. There is public transport, but you don't want to limit yourself to the 13 fixed stops available. One of Maui's best scenic drives is the Road to Hana.
Over 60 miles long, the Road to Hana can be completed in about three hours, but you will want to stop frequently to see sights such as Twin Falls and the Waikamoi Ridge Trail. If you are hungry, make sure to stop at Paia Bay Coffee & Bar for breakfast and the Nahiku Marketplace for lunch.
Big Tip: You will frequently lose cell reception while driving, so make sure to map out your route, places to stop and visit, and bring a mobile phone charger before you head out.
Be Careful Where Driving
While driving is great, not everywhere with a road is worth driving to. Some roads in Maui (especially past 'Ohe'o Gulch) are marked "unauthorized" for rental cars. This means you would have to pay for any repairs you incur on these roads. Some of these roads are unpaved and frequently home to landslides, so make sure to avoid these if possible.
Eat Local
Hawaiian food is as culturally significant as its waterfalls, and to experience all that Hawaii has to offer, you have to eat locally! If you are looking for fresh fish in any form, we recommend Coconut's Fish Café. Their fish tacos have earned them high praise, and their menu has something for everyone in your party.
If you are looking to try Hawaiian Loco Moco (hamburger on white rice with a fried egg and gravy), we suggest dining at Kihei Caffe. A classic Maui breakfast, Kihei offers a wide variety of delicious options like their Pork Loco Moco or Kama'aina Keiki.
Explore the Beach
If you are coming to Maui, odds are you will want to visit a beach at some point. Home to amazing beaches like Ka'anapali Beach and Paako Cove, make sure to do your due diligence while on the sandy shores. Maui's beaches are home to secret coves, waterfalls, and other hidden treasures. At Ka'anapali Beach, you can witness the cliff diving ceremony every evening or go ziplining with Kaanapali Skyline Eco Adventures.
Your Next Adventure Awaits with PMI Maui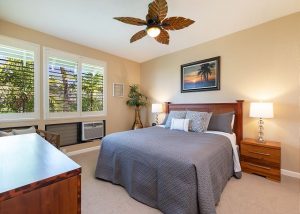 We know you're looking forward to experiencing the island we call home. As a first-time visitor to Maui, we want to keep paradise close to you. Come stay in one of our gorgeous properties!  Our Grand Champions Villas #184 unit is a great place to start. This two-bedroom, two-bathroom condo features modern amenities and a private lanai. It's the perfect place to unwind after a long day in the sun. And, with a fully equipped kitchen and plenty of beach gear, you will always be comfortable on or off the beach on Maui.
Check our availability and book your stay today! We look forward to hosting you for your first Hawaiian vacation.