Lao Valley State Park, also known as ʻĪao Valley State Monument, is a breathtaking destination in Maui, Hawaii, offering a blend of natural beauty and historical richness. The iconic Iao Needle, lush green landscapes, and tranquil ambiance make it a must-visit spot for nature enthusiasts and history buffs.
Uncover more majestic destinations with our free Vacation Guide. Packed with recommendations on attractions, activities, and dining, it's your companion for an unforgettable Maui experience.
Exploring Lao Valley State Park
Embarking on an adventure to Lao Valley State Park unfolds a canvas of nature's masterpieces coupled with historical narratives. The park is 10 miles long and spans across 4,000 acres of lush plant life and scenic views. Here's a detailed guide to help you plan your visit.
Journey to the Park
Lao Valley State Park is located near the town of Wailuku. To reach the park, take Route 30 to Wailuku and then go west on Route 32, which turns into lao Valley Road (320) and ends at the park.
Entrance Fees and Reservations
Reservations are required for non-residents wishing to visit the park. The entrance fee for non-residents is $5 per person, while children aged three and under can enter for free. Parking fees are $10 for non-residents. Reservations can be made online at the Hawaii State Parks reservation system.
Park Hours
The park is open daily throughout the year from 7:00 am to 6:00 pm. It's advisable to enter and be on the trail by 5:00 pm to ensure you have ample time to explore and return safely.
Trail Exploration
One of the park's main attractions is the Iao Needle Lookout Trail, leading you to a stunning viewpoint of the Iao Needle. This majestic rocky peak shoots 1200 feet up from the valley floor creating a geological spectacle. As you stroll along this 0.6-mile paved trail, you'll also encounter the Ethnobotanical Loop. This part of the trail hosts a beautiful garden showcasing various plants brought to the valley by Hawaiian settlers. The scenic beauty on this hike is a fascinating learning opportunity about Hawaii's natural and cultural heritage.
Park Advisories and Safety Information
For safety concerns and possible closure notices, it's recommended to check the official Hawaii State Parks website for the most current information. This ensures a safe and enjoyable visit.
Cultural Significance
If you love history, you'll also appreciate Lao Valley has a rich cultural history. In 1790, the Battle of Kepaniwai took place in this valley. Kamehameha I won the war against the Maui army and Chief Kahekili. It is also a sacred valley where Maui chiefs are buried.
Stay in Luxury and Comfort on Maui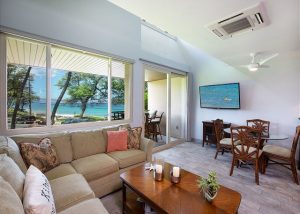 Lao Valley State Park is a serene yet enriching experience that adds to the charm of Maui. If you're looking for the perfect place to stay after a day of exploration, unwind in one of our luxurious and cozy condos. Our pristine rentals, modern amenities, and tranquil ambiance promise a rejuvenating retreat in Maui.
Make your Hawaiian vacation dream come true by checking availability and booking your stay today!