Maui is a paradise on Earth for nature lovers. Between its stunning ocean shores, golden beaches, and dazzling jungle, it offers a multitude of treasures for those curious enough to find them. The Seven Sacred Pools is by far the most popular and one of our favorites! These magical waterfalls are a sight to behold and something you can't miss during your stay. Read all about it in this blog, and start planning your visit today!
Don't forget to download our free Destination Guide for more local recommendations. It features top-notch restaurants, events, shops, and many more outdoor activities!
Request Your Destination Guide
Marvel at the Seven Sacred Pools on Maui
What Are the Seven Sacred Pools?
The Seven Sacred Pools are some of the most magnificent and iconic waterfalls on Maui! They're located on East Maui along the Kipahulu Coastline in the heart of Haleakala National Park. Picture a scenic rainforest with cascading waterfalls plunging into pools, then emptying into the mesmerizing North Pacific ocean.
View this post on Instagram

The Seven Sacred Pools are also "Ohe'o Gulch," Haleakala National Park Kipahulu. However, the proper name for this incredible collection of waterfalls is "Ohe'o" (pronounced Oh-Hey-Oh).
Exploring Haleakala National Park
Since the waterfalls are inside Haleakala National Park, you'll have to pay the entrance fee. Admission to the park is $15 and allows you to enter for three days. If you're planning on visiting for longer than that or wish to explore more of Maui's wonders, consider purchasing an annual park pass. This pass costs $25 and grants you access to both Haleakala National Park, the volcanoes, and Pu'uhonua O Honaunau National Parks on the Big Island.
Can You Swim in the 7 Sacred Pools
The 2-mile Pipiwai Trail inside the park is perfect if you want to go on a hike and see more of the stunning wonders around you. Witness a breathtaking bamboo jungle and dramatic cliffs. Then, bathe in the two lower pools and find a nice spot to share a picnic with your loved ones! Note that swimming is strictly prohibited at the Seven Pools but not along the Pipiwai Trail. Be on the lookout for wet rocks! 
Your Dream Stay Awaits on Maui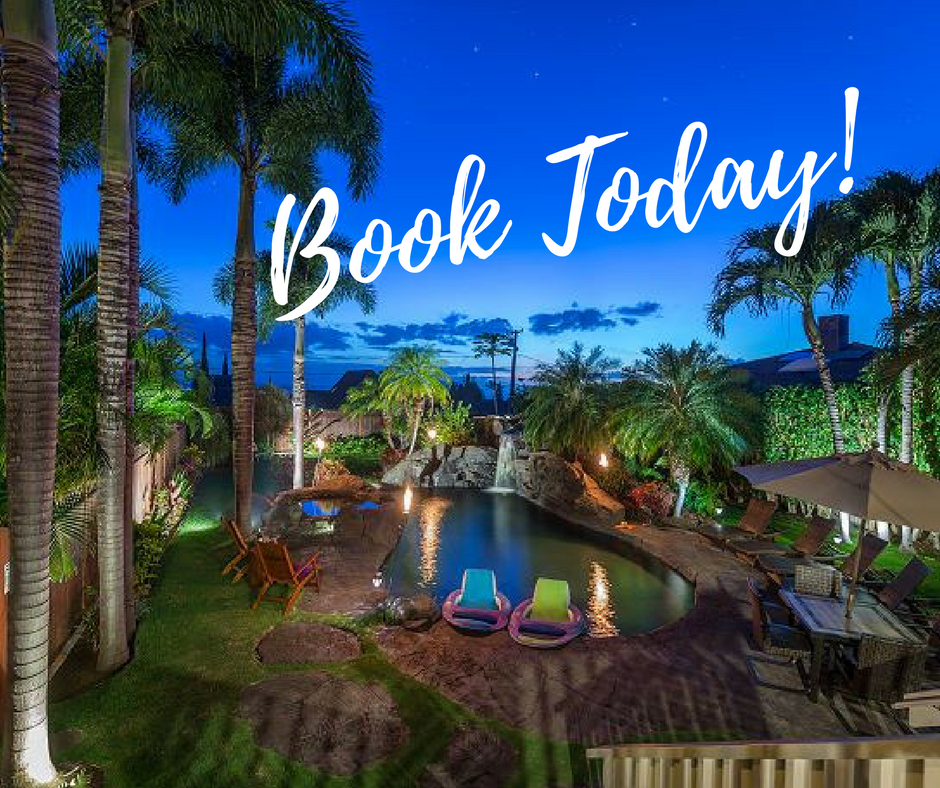 Did you know that PMI Maui provides some of the best vacation rental properties on the island? If you want to feel at home while enjoying the most upscale, top-notch stay, look no further than our properties. After all, you don't have to feel like a tourist on Maui. You can experience it like a local!
Our properties are ideal for groups of friends, couples, and families, so whatever your travel plans are, we can accommodate them. Take a look at our Maui Kamaole C-202 unit. This gorgeous condo can sleep up to six people and is located in Kihei, where you'll find a variety of fun activities within walking distance. You'll love the earthy decor, bright colors, and spacious deck overlooking the gardens. Imagine yourself sipping a glass of wine, gazing at the sunset, or enjoying a morning espresso before your daily adventures! Other amenities include WiFi, a flat-screen TV, a washer and dryer, and a fully equipped kitchen. You'll even have access to the resort's tennis courts, hot tubs, and pools!