Are you planning a vacation to the beautiful island of Maui, Hawaii? If so, you're in for a treat! Maui is not only known for its stunning natural beauty but also for its commitment to sustainability. In this blog, we'll guide you on being a responsible traveler and helping preserve this paradise for future generations.
But first, don't forget to download our free Vacation Guide to discover the best attractions, exciting things to do, and dining options at some of the best restaurants on the island. Get your free copy and start planning today!
6 Ways You Can Practice Sustainable Travel in Maui
Maui boasts a pristine natural beauty that must be preserved. To be a responsible traveler, follow these eco-friendly tips to help keep Maui beautiful!
Choose Eco-friendly Accommodations
When booking your stay, look for accommodations dedicated to practicing and promoting high environmental standards and sustainability. Supporting such establishments contributes to the preservation of Maui's unique ecosystem.
Minimize Your Carbon Footprint
Consider renting a hybrid, electric car, scooter, or public transportation to explore the island. Creating your vacation itinerary beforehand will help you understand your transportation needs and use more sustainable options where possible. This helps reduce carbon emissions and helps protect Maui's environment.
Bring a Reusable Water Bottle and Flatware
Reduce plastic waste by bringing your reusable water bottle and flatware. Also, try to eat at local restaurants that are eco-friendly as well. And even better, choose accommodations with fully equipped kitchens so you can make your meals at home while on vacation.
Leave No Trace on the Beach
Respect Maui's marine life by not touching anything in the ocean and not feeding fish, marine creatures, wild animals, or birds. Always leave the beach cleaner than you found it. Use reef-safe sunscreen and eco-friendly bug sprays. Avoid toxic baby powder and use cornstarch to remove sand instead.
Book an Eco-Educational Tour
Explore Maui's natural wonders through eco-educational tours and adventures. Companies like Valley Isle Excursions, Maui Kayak Adventures, and Trilogy Excursions are dedicated to showcasing the island's beauty while preserving it and the local community. Learn more about these tours in our Maui eco tours blog.
Travel with Impact: Aiding Lahaina's Recovery
For sustainable travelers seeking to make a positive impact during their visit to Maui, you can volunteer with Hands On Maui to aid in the Lahaina fire recovery. Moreover, by choosing to vacation in Maui and supporting local businesses, travelers significantly contribute to the local economy and rebuilding after the fire.
Stay in a Beautiful Luxury Home on Maui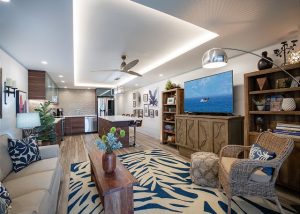 As you explore sustainable travel options on Maui, consider staying in a vacation rental, such as those offered by PMI Maui. This choice contributes to less waste as vacation homes generally consume fewer resources than other accommodations.
We offer beautiful, clean, and thoughtfully designed vacation rentals all across the island. Enjoy a stylish home with a fully equipped kitchen for preparing meals. We provide an authentic and eco-friendly way to savor your Maui adventure.
Check availability and embark on your sustainable Maui journey with us today.