Calling all yogis and wellness enthusiasts: We have found the perfect activity for you on our gorgeous Hawaiian island. Make sure you pack your favorite leggings and comfy tank tops because you're about to experience a unique yoga session. Maui Goat Yoga offers a unique, soothing experience that engages all the senses. Feel the tension from your muscles disappear as you stretch, your mental health improve with a cute goat by your side, and be enchanted by the stunning ocean views in front of you. Read on to learn more about your next favorite activity and start planning your trip to Maui today!
Learn more about our favorite things to do on Maui in our exclusive, free Destination Guide! We created this tool to help you with your planning process and to showcase all the wonderful things our island has to offer. Inside, you'll find recommendations for local restaurants, events, shops, museums, outdoor adventures, and more.
Here's Why Maui Goat Yoga Is One of Our Favorite Activities
The Benefits of Goat Yoga
Whether you're familiar with the goat yoga trend or not, you're most likely finding the idea appealing. Who wouldn't want to enjoy a scenic yoga session surrounded by the cutest farm creatures? At Maui Goat Yoga, you can embrace the peaceful atmosphere of Maui's farmland while restoring your body and mind. We all need a little healing from time to time, and having an adorable goat beside your mat is a fantastic addition to the experience! 
Your Experience With Maui Goat Yoga
Maui Goat Yoga offers daily classes and takes place on top of a mountain, which gives you incredible, 360-degree views of the coastline and the Haleakala National Park. The class costs $37.95 per person and focuses on healing and restoring your mental and physical state. As you stretch and flow from child's pose to downward dog, take a moment to breathe in the cool breeze coming from the ocean. Do you smell the delicate, blooming flowers around you? Feel the earth underneath your feet, and the soft grass caressing your toes. You are anchored in the present, surrounded by peaceful and heavenly scenery. Now, open your eyes — your little furry friend is right by your side, ready to be cuddled! If you want to make the experience even more spectacular, sign up for their sunset sessions with live music! 
Note: If you travel with your yoga mat, feel free to bring it along. If not, you can rent one on-site for an extra $5 in cash. This also includes a mat towel!
Other Relaxing Activities on Maui
Once you finish your class at Maui Goat Yoga, make your blissful relaxation last longer in the upcountry! The studio is near a variety of soothing (and scenic!) attractions we know you'll love. Head over to the Ali'i Kula Lavender Farm, for example, and marvel at the endless purple bushes and enchanting smells around you. You can also visit the Kula Botanical Garden and stop by the nearby town of Makawao, where you'll find one of the most iconic bakeries on Maui. T. Komoda Store and Bakery has been a staple of our island for decades and serves some of the most delicious cream puffs you'll ever taste. After all that exercise, you deserve to treat yourself!
Say Namaste to Maui This Upcoming Vacation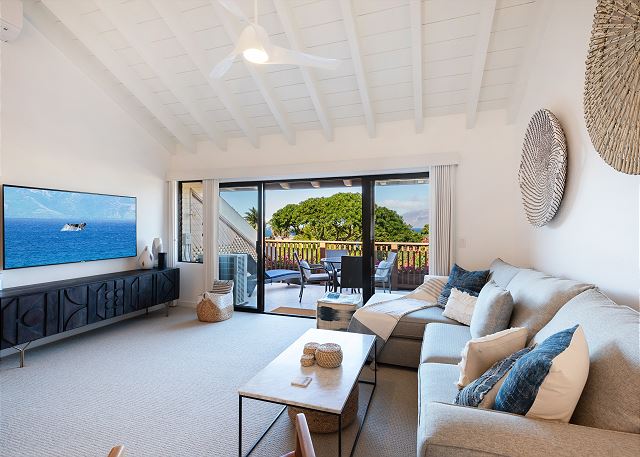 Are you ready for unmatched service and relaxation? You're in luck! We offer both at PMI Maui's properties. Browse our incredible selection of homes and apartments and see which one fits your needs and interests the best. All properties come with elegant decor, modern amenities, and gorgeous garden or ocean views. After all, it's not all about the things you do on a vacation that matters, but mostly where you stay! Give your stay a headstart by booking with us and get ready to find your dream home away from home for you and your family!