If you were waiting for a sign to make your dream adventure in Hawaii come true, this is it! Don't wait any longer to go on that fabulous Maui Road Trip with your best friends or significant other. In this blog, we'll tell you everything you need to know about planning your adventure, including iconic roads on Maui, stunning waterfalls you can swim in, the wonders of the upcountry, and the Road to Hana, and, of course, top-notch places to eat along the way. So, what are you waiting for? Read on, take notes, and drive on! 
Do you want to know more about the best things to do on Maui? Download our free Destination Guide! Inside this exclusive planner, you'll find our top recommendations for local restaurants, events, shops, museums, and outdoor activities. 
How to Plan the Most Whimsical Maui Road Trip
Map Out the Best Drives on the Island
One of the reasons why Maui is such a perfect location for a road trip is because it features some of the most scenic drives in the world! One of the most famous is the Road to Hana. It's a great one to start with since it takes you to all the top Maui attractions and spots, including Paia Town and Keanae. You really can't go wrong with this drive! Note that there's not a lot of cell service, so we highly recommend you load your itinerary before you jump in your car.  
Another fabulous Maui drive is in the upcountry. If you want to discover another side of the island (in contrast to the beach), then it's the perfect place. There, you can marvel at the farmland and lush forests, including the magnificent Haleakala National Park where you can hike up the volcano! Make sure you stop by the Kula Lavender Farm and the Botanical Gardens – they offer the opportunities to stretch your legs! 
Stop to Swim in Maui's Top Waterfalls
Going on a fun road trip isn't all about driving. After all, you want to have time to get out of your car and soak up the scenery. How about jumping in a waterfall, for example? Luckily for you, Maui has plenty of those. Pack your bathing suit and a beach towel and enjoy a refreshing swim in the cool water. The Seven Sacred Pools, also known as 'Ohe'o Gulch, is at the heart of the Haleakala National Park and features a jungle forest and stunning waterfalls. Another great spot is along the Road to Hana: Upper Puohokamoa Falls. It's particularly stunning during blooming season! 
Enjoy Delicious Food 
Along
 the Way!
It's well known that driving will get your appetite going. That's why you should include a few dining spots on your itinerary. Why not make the most of your day trip and discover the best fish tacos on the island? Paia Fish Market is a prime spot to enjoy a delicious lunch. The atmosphere is laid–back, and the fish selection is fresh out of the ocean! Enjoy a mahi-mahi taco, for example, with melted cheese, salsa, and tomato, and pair it with a side of Cajun rice or fries!
Find a Lovely Place to Rest After Your Adventure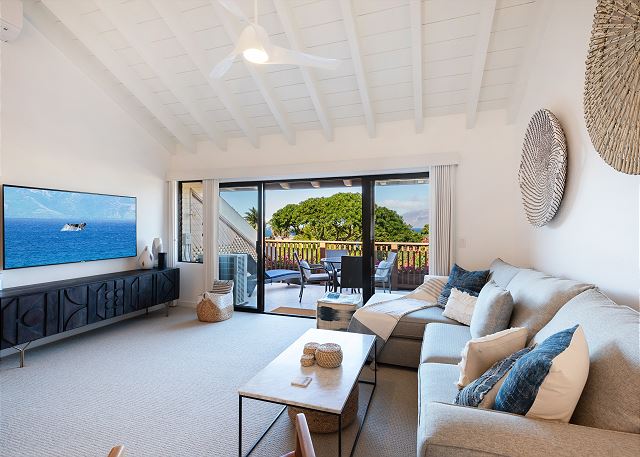 Now that we've got you excited about this fabulous Maui road trip, it's time to figure out where you're going to stay on the island. Luckily for you, we know the perfect place! PMI Maui offers a selection of high-end condos with all the modern amenities you need to relax. You'll love their ideal locations and elegant décor! After a long day on the road, pop a chilled bottle of wine or bubbly and celebrate on your spacious lanai overlooking lush gardens and the ocean in the distance.