Maui is such a picture-perfect, sunny vacation spot that most people assume they'll go there during the summer. But did you know our beautiful island isn't just a summer destination? Indeed, Maui in the fall is a sight to behold! In this blog, we'll tell you all about the best things to do on Maui in October and let you experience our island with fewer crowds and more fun! Are you ready? Let's go! 
Discover even more things to do on Maui in our Free Vacation Guide. This exclusive planning tool gives you access to all the top attractions on the island, including local restaurants, events, shops, museums, outdoor activities, and more. 
4 Things You'll Love to Do on Maui in October
Hiking
One of the best things to do on Maui in October is to go for a scenic hike! Our lovely Hawaiian island has plenty of beautiful hiking spots, and if you consider yourself a nature lover or hiker, then you don't want to miss Maui's trails. Here are some of our favorites to add to your bucket list: 
Visit the 
Kula Country Farms Pumpkin Patch
One of the greatest things to do during a fall getaway is to check out a pumpkin patch! After all, just because it's sunny and beachy doesn't mean you have to compromise on your favorite seasonal traditions. Head over to Kula Country Farms and pick a pumpkin to bring back to your condo! Not only will it be a fun activity to enjoy with your loved ones, but it will also allow you to see gorgeous views of the Maui countryside. The pumpkin patch starts on October 1 and is open from 9 a.m. to 4 p.m.  
Hawaii Food 
& 
Wine Festival
Another fun fall event to enjoy during your stay on Maui in October is the Hawaii Food & Wine Festival! It usually occurs in the middle of the month and is one of the premier culinary events on the island. There, you can taste delicious local food and pair it with succulent wine! It's a great activity for people traveling with friends! 
Go on a Scenic Road Trip
Finally, a fabulous thing to do during the fall is to go on a scenic road trip! Maui is known for its extravagant beauty, and what better way to experience it than from the comfort of your car? Hop in and out of your vehicle as you drive by stunning beaches, waterfalls, and even mountains! We recommend you follow the Road to Hana, as it is one of the most popular drives in the world! Remember to bring your phone chargers and to fill your itinerary before leaving your condo – there's not much cell phone service along the way!
Fall
 in Love 
with
 PMI Maui's Homes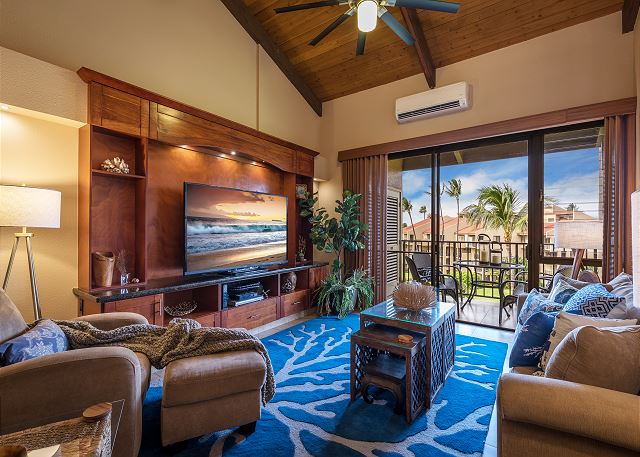 Now that you know how amazing your trip to Maui in October can be, it's time to look for the perfect place to stay! Luckily for you, we have several excellent options. Indeed, PMI Maui offers some of the best vacation rentals, so why look elsewhere? Browse through our high-end selection of condos today and find your home away from home! You'll love their beautiful décor and stunning views of the ocean in the distance.